I offer one to one private sessions for deep healing as well as group Reiki Drum sessions. The following information will be useful if you are joining as part of a group class and are wondering what to expect from a Reiki Drum session so here are a few pointers to put your mind at ease:
Firstly, come prepared:
If you are joining a group class, make sure you have items like a yoga mat, a snuggly cover to keep you warm, a cushion for your head or under your legs if you need it and an eye mask or scarf to shut out the light. Often at certain venues mats may be provided but it can be more comfortable to bring your own so your needs are met. If you don't have any of these then let me know.
You may also like to bring water and a personal journal to note down any insights that come to you during the Reiki Drum session.
Opening the Circle:
When you arrive at the class simply find a suitable spot and settle yourself down on your mat. Don't get too comfortable just yet though, I always begin every session by setting up and opening the sacred circle. I open the circle in a different way each time but this usually involves the group holding hands in a circle, smudging with sage to cleanse the environment and invoking the spirits. I can talk for ever in another blog post about each of these things!
Becoming present in your body:
In order to get the most from the Reiki Drum session, you need to be fully present in your body with your breath rather than focusing on the non-stop chatter of your monkey mind. So in order to help you focus on being in the session and leave the busyness of your day and to-do list to one side, I will lead you in a guided meditation to relax your body and focus on your breath.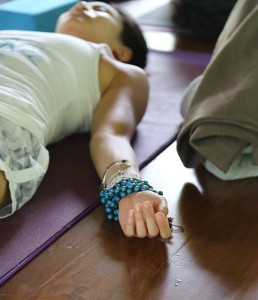 Setting the Intention:
Before we start the Reiki Drum journey it's really important to set a clear intention so that your experience has a focus. Each Reiki Drum session usually has a theme, and I will suggest certain intentions for you, however you will have a more powerful experience if you decide on your own intention for the Reiki Drum journey. It can be something simple like "my intention is to relax and receive guidance from my higher self" or it can be more specific to an issue that you are dealing with for example "my intention is to be shown what I need to know about my current job".
Experiencing the Reiki Drum – the journey:
As I start to drum all you need to do is make sure you are comfortable, focus on your breath, breathing into your heart area and hold your intention in your mind. If your mind starts to wonder, no problem just bring it back to focus on the beat of the drum, your heart and your breath. I will guide you in the beginning of your journey and then at a certain point I will stop speaking and let the beat of the drum carry you where you need to go. I will walk about the room drumming over all of the participants. If this is not something that you want to happen to you, then you just need to raise your hand to let me know.
You will find the Reiki Drum a powerful sound that vibrates throughout your body, these sound waves are physically helping to shift energy in your energy field. Some people have a visual experience of colours, patterns, shapes, characters, animals, angels etc, you name it! Others feel sensations in their body like tingling, shivers, warmth, waves of energy. It's also common to experience emotions like joy, bliss, sadness… again the list is endless, each journey is very specific to you and will be a different experience every time. It's really important to pay attention to what you are feeling in your body because this provides great guidance.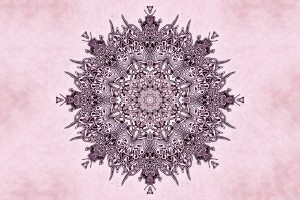 If at any time you are feeling uncomfortable with the sensations or the sound, then no problem, listen to what your body needs and as long as you don't disturb the other participants I don't mind if you leave the room – you will still hear and benefit from the drum when listening from outside of the room.
Grounding and giving thanks:
The journey will come to an end when the beat of the drum changes and I will start talking again to guide you back to the present reality in the room. You will spend time giving thanks to the experience and any guidance that you received. We'll do some grounding breaths and exercises to make sure you are fully present in the room after your Reiki Drum experience. After a Reiki Drum session, many participants are a little groggy, and take a while to come back round. If you feel like sharing your experience there will be an opportunity but if you would rather absorb the information then I suggest you make a note in a journal.
Closing the Circle:
We will come together as a group to close the circle and thank the helping spirits for our experience. You will have the opportunity to ask further questions.
After Care:
A Reiki Drum session takes you deep, so drink water not booze, take it easy and be kind to yourself after participating in a session. Maintain a sense of self-awareness for the next 24 hours. Monitor how you are feeling, notice what your thoughts are about, make a note of your dreams and be on the look out for signs from the universe to help you on your path.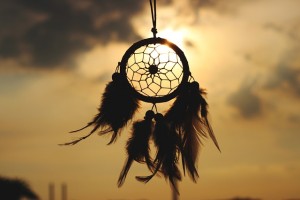 Intrigued and want to join a Reiki Drum Session?:
Reiki Drum is happening in Edinburgh. Check the events page to book.
Would you prefer a private Reiki Drum Treatment, just me and you, tailored to meet your needs?:
A one to one treatment is deeply powerful and transformative and also combines hands-on healing with Reiki energy as well as the Reiki Drum. Look out for a blog post on this soon and contact me to book a treatment.
New to this kind of experience and not sure you'll be able to "do" it?:
The beauty of the Drum is that it is an ancient and sacred tool used by our ancestors. We have the beat of the drum in our bones and the first sound we ever hear is the heart beat of our mother in the womb. Experiencing the Reiki Drum is as simple as opening your heart to the rhythmic beat of the drum and breathing with the drum allowing it to penetrate throughout your body. In fact, the sound waves will do that anyway, because that's what sound does, it moves through so called solid items like us in waves and can create quite a stir!  Your experience will be unique, all you need to do is observe with childlike curiosity the feelings, sensations and emotions that appear. And watch out, your experience won't be what your ego thinks it is going to be! The key to embracing the healing of the Reiki Drum fully is being ready, open, willing and trusting yourself that whatever you experience it is what you need most at this time.
Join me in Edinburgh, book here
Plant Spirit Power
Subscribe to monthly news and start your plant spirit journey with an exclusive audio from Plants that Speak Souls that Sing.