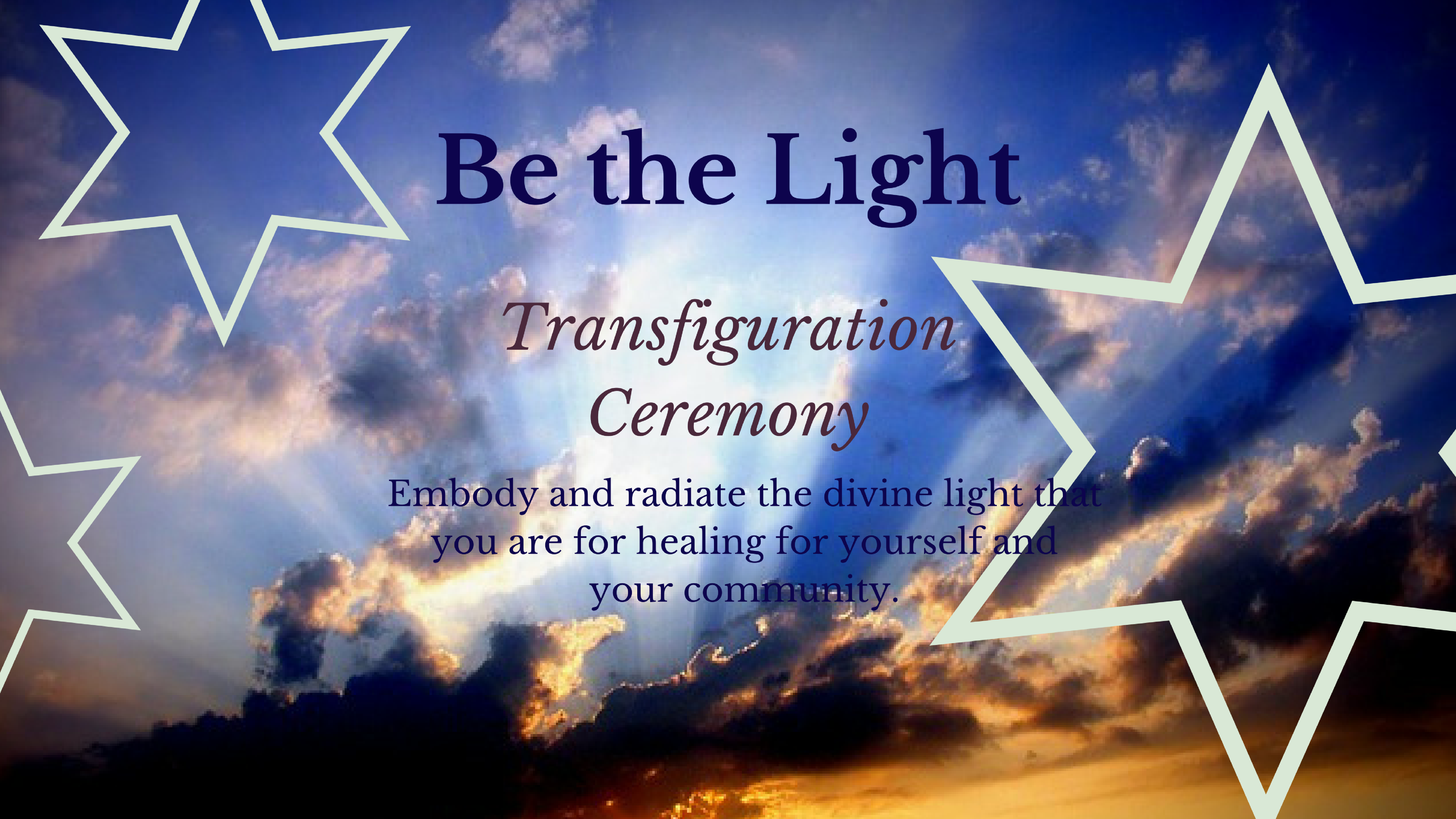 Are you ready to be the light? For yourself, your family, friends and community?
You are invited to be part of a transfiguration ceremony. At this special festive time of year, this is an opportunity to step into your authentic self and connect with the divine being of light that you are. This allows you to radiate your light as a healing presence for both personal and planetary transformation.
You will learn about the healing process of transfiguration and practice how to access and stay in the transfigured state, by radiating the divine light that you are through visualization and sound.
You are going to feel:
Loved and supported
Buzzing with magic, divine love and light
Connected to the light that you are and SHINING bright
Thank you for Friday, Fay, my energy felt amazing after Be the Light and the whole weekend – Lorraine M, Innerleithen
You are invited to bring and wear special clothing (this could be a mask, necklace, belt, top or other type of clothing) for the ceremony, to enable you to leave your ordinary realty behind and step into the role of divine light.
During the transfiguration ceremony you will have the opportunity both to radiate divine light out to others, to your community and beyond. This is exactly what is needed at this time of year.
You will also have the opportunity to receive. Receiving the light and sound allows transformation and healing on a deep level. This enables you to release stagnant and unwanted energy, patterns and beliefs which may be holding you back and step into your divine flow.
"We are stars wrapped in skin. The Light you are seeking has already been within."
By stepping into our light and shining our light out brightly into the world, not only do we shine light on others but we encourage the light to shine in others. Let our world be full of light!
I have had the wonderful opportunity to collaborate with Fay… She has this beautiful way working her magic with the drum and creating such a sacred space for allowing you to be taken away to another realm. She has a wonderful gift and allows a safe space to explore. Thank you for sharing your gifts with us Fay.

Josette Coulter, Yoga Instructor Belifted Yoga
Date: Sunday December 17, 7 – 9pm.
At: Space 108, Greenside, Peebles
For: Everyone seeking to connect with the divine aspect of themselves and who wishes to receive healing for personal transformation and also help raise the vibration of your community. For everyone seeking to feel radiant, supported and held by the spirit of all things.
Cost: £20
Book your spot through Paypal below or email Fay fay@fayjohnstone.com or send a message through Facebook for further details.