The wheel of the year has turned – which means we've reached the celtic fire festival of Imbolc. Spring, led by the snow drops and catkins is pushing its way through bringing with it a heap of potentiality, hope and abundance for us to embrace.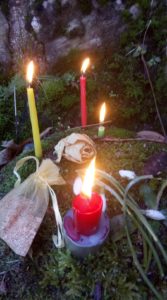 There is a beautiful sense of awakening in the natural world around us and we can harness this energy to help us manifest our visions and projects. If you find this time of year a little depressing with the cold weather and dark days seeming relentless, you can beat the February blues with nature's vibrant energy. Get out into nature and look for those signs of hope that winter has lost its grip and spring will soon be upon us.
In this video I share how to harness the blessings of this precious time. I cover:
what to do if you feel totally blocked (5.45)
What to do if you live in a city (8.50)
I share the way that I tune in to nature's energy and celebrate with ceremony.
From 12 minutes onwards I suggest some journaling prompts for you.
The big question is: What are you ready to bring forward?
Let me know in the comments below how you will be honouring this shift in energy of the year and what is awakening in you. Please share with others. x