Hello I'm Fay,
Teacher of Reiki,  Shamanism, Elemental Qigong and Plant Medicine

I offer training and personal coaching in Reiki, Shamanism and Plant Spirit Healing. As well as Qigong classes and healing retreats from my magical garden in Scotland.

I'd like to help you connect to plants and nature to feel more aligned with your truth and more confident expressing your innate healing gifts and creativity.
What I love most is writing…


The sessions have really helped me to connect to my inner self, release my fears and past beliefs. I feel much calmer and know I am on the right path. Working with Fay is lovely as she feels like a friend who is really there to help you. I also loved hearing the meaningful messages and visions Fay received. I really recommend working with Fay to everyone. Fay is such a gifted and caring person and is making a real difference in my life.
I have had the wonderful opportunity to collaborate with Fay. She has this beautiful way working her magic with the drum and creating such a sacred space for allowing you to be taken away to another realm. She has a wonderful gift and allows a safe space to explore. Thank you for sharing your gifts with us Fay.
Prior to my work with Fay I was waking up dreading my day. Now I am reconnecting to who I am and loving more what is. Our sessions initiated big change and acceptance. I now feel a strong sense of fun and get up and go. The process has given me permission to put myself first and take care of me. My whole body seems alive with excitement and energy. I am ready to stop hiding and be who I really am on my path. I feel like sparkling. I just can't thank Fay enough.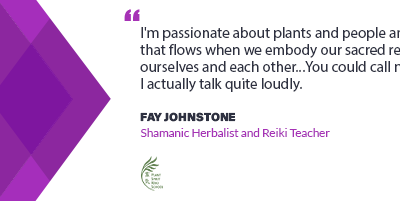 Plant Shamanism & Reiki Training - Fay Johnstone Interview On MysticMag.com Fay Johnstone – Teacher of Reiki, Shamanism, Elemental QiGong and Plant Medicine – gives MysticMag the opportunity to discuss her passion for plants and energy healing and what one can...
Interested in Shamanism, Plants or Energy Healing?

Join the mailing list for FREE resources plus discounts off courses to assist your path.